Combining the Parts 
Place the two pen holder peices into the slots on the pen plate. They should go in sideways with the cutouts in the holders pointing down towards the legs in the pen plate. Place a M3 10mm screw into the hole and through both pen holders. Attach a nut and hand tighten.
Place into the plate so the cutout faces the legs
Adding a Pen 
Use a pen, pencil or marker for this part. You will also need one of the rubber bands. Place the pen in the wedge created by the pen holders. Wrap the rubber band around the pen. Start with the notches in the pen plate then over the pen then to the other notches in the pen plate.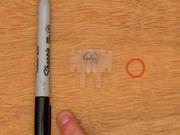 Holding here for the next part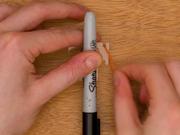 The Other Rubber Band 
Going back to the chassis. Take the other rubber band. It will be placed in the notch below the servo horn. The easiest way is to first loop it around the notch and pull it up and in fron of ther servo horn. With some tension on the rubber band, drop your pen pen through the center hole in the chassis. The legs in the pen plate will slide into the two slots in the chassis. Now pull the rubber band forward and over the pen holders but not the plate.