Undo Robotics Series 3 
Undo the cables going to the I2C Servo Driver and the I2C Motor Driver. Press down on the orange buttons on the servo driver then remove the jumper. Unscrew all terminal blocks on the I2C motor driver and remove the wires.
Remove I2C Servo Driver cable
Remove I2C Servo Driver cable
Remove I2C Motor Driver cable
Remove I2C Motor Driver cable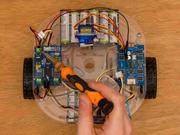 Undo the four screws at the corners of the level two chassis and remove it from the standoffs. Becareful to feed the wires and cables out first.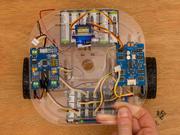 Adding the Arm 
Take the robot arm, the freed level two chassis, two 12mm screws, and two hex nuts. Line up the holes in the base of the robot arm with the holes in the chassis. Flip over the arm and chassis. Take one 12mm screw and insert it through the chassis and into the base. Repeat with the remaining screw. Flip back over the to the top. the screws tap into the base but nuts can be added.
Repeat with remaining screw
Reattached the Chassis 
Place the level two chassis on the standoffs so that the robot arm side is oppisite the battery holder. Screw in the four screw into the standoffs. Reverse the Undo Directions to reattached all wires and cables.
Discussion and Comments for the Attaching the Arm block