What Are Wrappers? 
Wrappers are plastic housings made for grove modules. There are two sizes that the wrappers come in. They are the 1x1 square and the 2x1 rectangle. The wrappers can connect to each other and can be used to add some structure or organization to your project. The bottom of the wrappers are compatible with standard Lego-type bricks.
How-to 
Here is a demonstration using 1x1 and 2x1 sized wrappers. There are tiny plastic nubs found on the wrapper that should match up with the holes found on the outside of the grove modules. Once you find the correct orientation, slide one side of the grove module under the two retention clips. Press down on the other side and you'll hear a click.
All the parts for this how to
All the parts for this how to
Press down to hear the click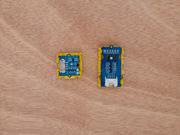 Fitting Them Together 
You can attach wrappers together by sliding them together on any side. To take a module out of the wrapper you'll need to pull back one side of the retention clips and remove. Do not put pressure on the grove connector itself.
Line up the mounting slots
They can also be connected this way
They can also be connected this way
They can also be connected this way
These are the retention clips
These are the retention clips